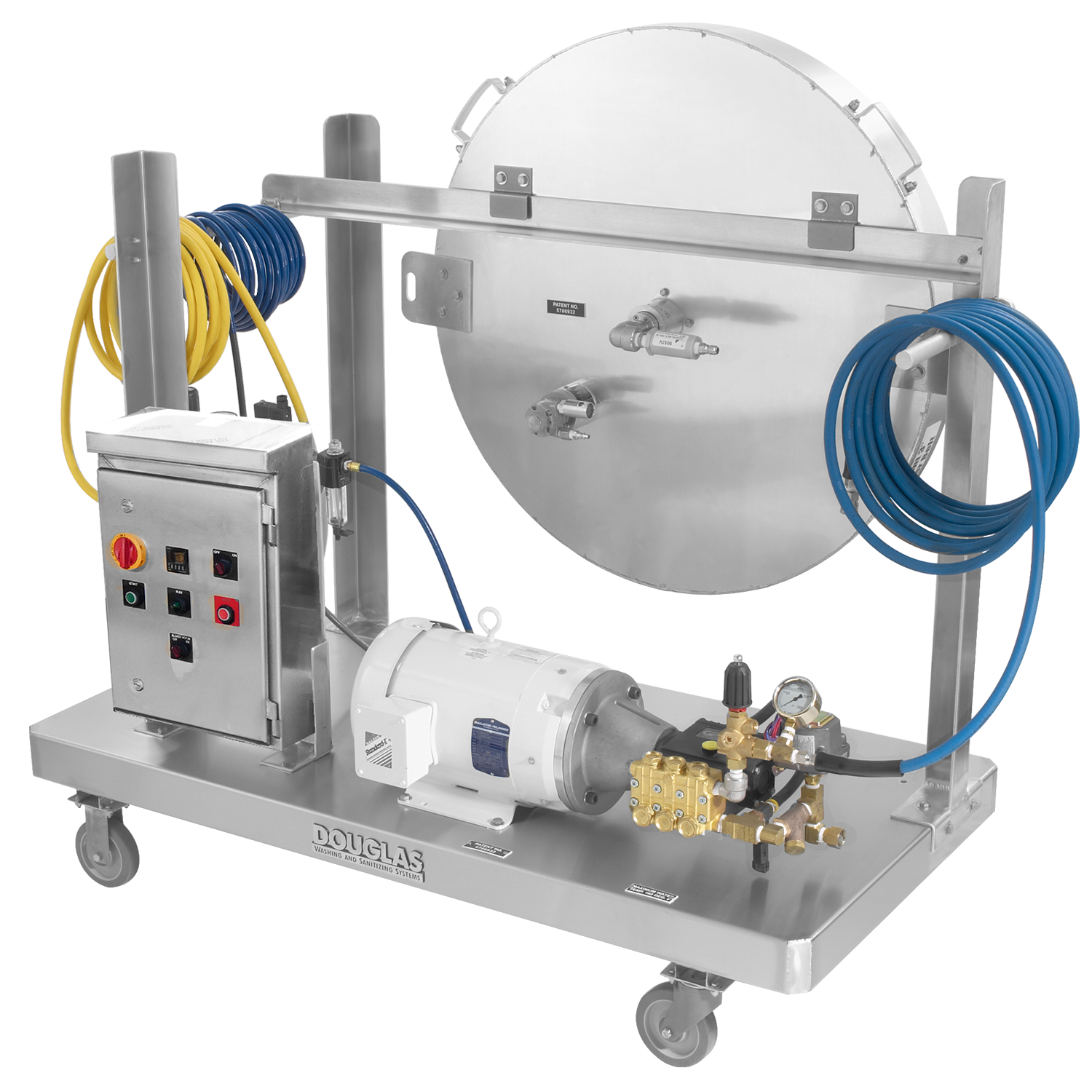 Conveyor Belt Washing Systems Process
Douglas Machines' Cyclone Belt Washers are designed to remove fats, sugars, allergens, and oils from a wide variety of open mesh and solid conveyor belts. We are so confident that you will enjoy the benefits of our Cyclone Belt Washers that we even provide a performance warranty for recommended applications.
Conveyor Belt Washing Systems Features
Regardless of the model, each Douglas Machines' conveyor belt washer features:
Models vary by the type of portable wash head provided which is matched to the application for maximum cleaning effectiveness.
The Cyclone Model C-RH has a Rotary Head for washing open mesh belts and the Cyclone Model C-LH has a Linear Head for washing solid belts.
The spray heads are matched to the width of the belt and provide complete coverage by adjusting the speed of rotation on the Rotary Head or the speed of travel on the Linear Head.
Both models are shipped complete with a portable cart that allows the system to be moved to various locations throughout the facility.
Water use is just 3 to 4 gallons per minute at 1500 to 2000 psi, which is far less than using a water hose or stationary spray bar.
Since one pass is normally all that is needed to clean surfaces, Douglas Machines' Cyclone Belt Washers can cut clean up time in half and significantly reduce change over time. They also extend belt life and eliminate the need for expensive detergents.
Choose from Douglas Machines' list of standard conveyor belt washers below.
Model C-RH
Cyclone Rotary Head belt washing applications include Spiral Conveyors, Freezing Tunnels, Meat Fryers/Ovens or any other type of belt that allows for drainage. The portable Cyclones' spray head features high pressure rotating nozzles to cut and remove stubborn soils from both the top and the bottom of belts in one pass. A portable cart allows you to move from one belt to another for quick cleanup. An optional "air-blast" blower with portable air knives aids in drying.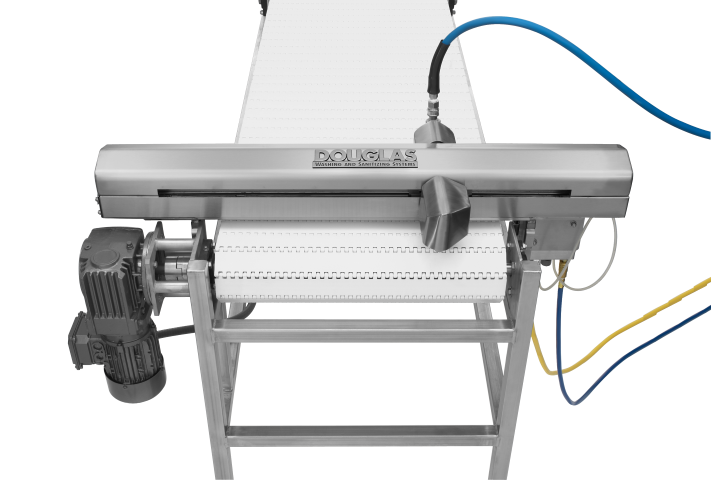 Phone
(727) 461-3477 Local
(800) 331-6870 Toll Free
Corporate Office
4500 110th Ave N
Clearwater, FL 33762
Business Hours
M-F: 8am – 6pm
Sat: 8am – 4pm
Sun: Closed
Reach Out to Us
Have a question? Our experienced sales and engineering staff is ready to assist you in identifying the very best Douglas Washer or Replacement Part to match your specific needs. Call 888-348-3947 for parts and service or email us today. We are here to help you!