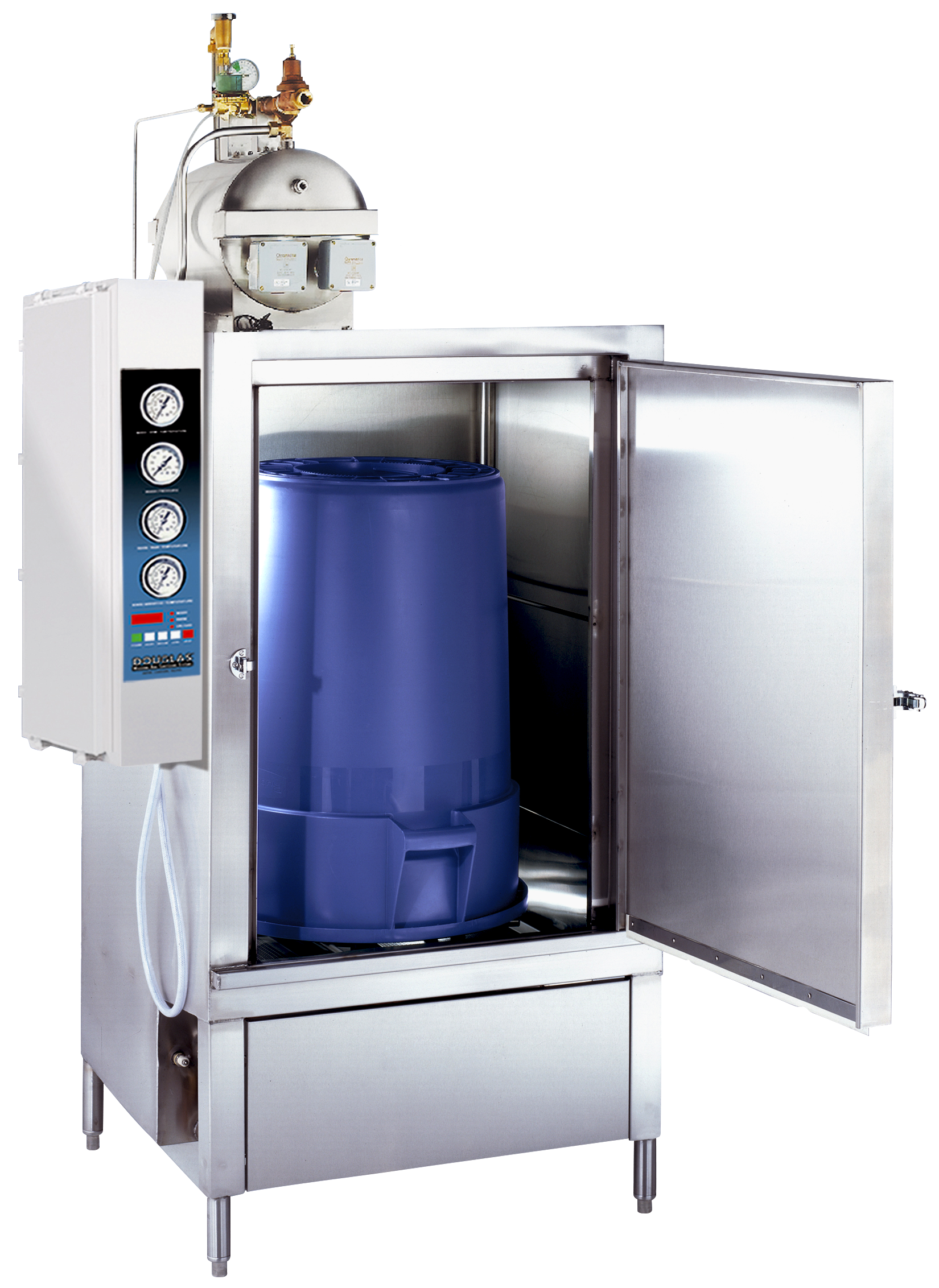 Barrel Washing Machine Manufacturer 
Douglas Machines' barrel, drum, and garbage can washers are designed to wash, rinse and sanitize barrels, drums and refuse containers, one at a time.
Barrel Washing Machine Features
Regardless of the model, each Douglas Machines' barrel washing machine washer features:
Each barrel, drum, and garbage can washer features a recirculating detergent wash tank and a separate, freshwater sanitizing rinse tank.
Wash water is pumped through rotating or fixed spray arms fitted with high-velocity stainless steel V jets designed to cut and remove stubborn soils.
Wash cycles are selected from a short, medium, or long sequence (4, 6, or 8 minutes) depending on soil conditions.
Each wash cycle is followed by 30-second hot water, sanitizing rinse.
The rinse water is routed back into the wash tank for reuse and to help freshen it.
Filters collect debris and keep the nozzles from clogging.
Electric, gas, or steam booster heaters maintain proper operating temperatures.
Available with several options, including a steam extraction fan to vacate the steam before the door is opened, a protruding spray arm for bunged hole barrels, and assorted wash racks for lids, buckets, and utensils.
Choose from Douglas Machines' list of standard barrel washing machine washers below.
BDW-1-HD
The Douglas Machines' Model BDW-1-HD barrel and drum washer is designed to wash and sanitize food soils from barrels, drums, and other reusable containers up to 26″ in diameter by 38″ tall. This powerfully efficient Douglas machine features a rugged hinged door design, a heavy-duty 7-1/2 H.P. pump, and a push-button control and information center. This Douglas machine is also available with an optional protruding spray nozzle for bunged-hole barrels.
Phone
(727) 461-3477 Local
(800) 331-6870 Toll Free
Corporate Office
4500 110th Ave N
Clearwater, FL 33762
Business Hours
M-F: 8am – 6pm
Sat: 8am – 4pm
Sun: Closed
Reach Out to Us
Have a question? Our experienced sales and engineering staff is ready to assist you in identifying the very best Douglas Washer or Replacement Part to match your specific needs. Call 888-348-3947 for parts and service or email us today. We are here to help you!