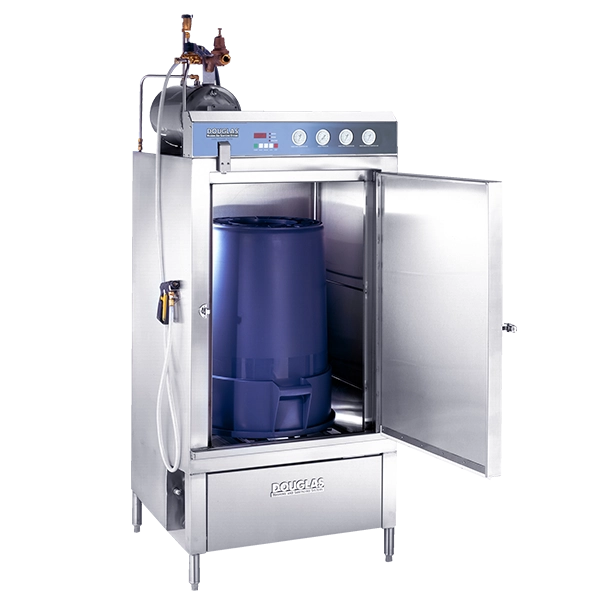 Garbage Can Washer
Our state-of-the-art barrel washing machine can clean garbage cans, barrels, and vats to a sparkle.
Barrel & Drum Washer Process
Select your 4, 6, or 8-minute wash cycle depending on dirtiness.
State-of-the-art electric, gas, or steam booster heaters warm the wash water.
Wash water is pumped through stainless-steel rotating spray arms
High-power V jets shoot the water to cut through tough grime.
Every wash cycle ends with a 30-second sanitizing rinse.
The rinse water routes back into the wash tank for reuse and to help freshen it.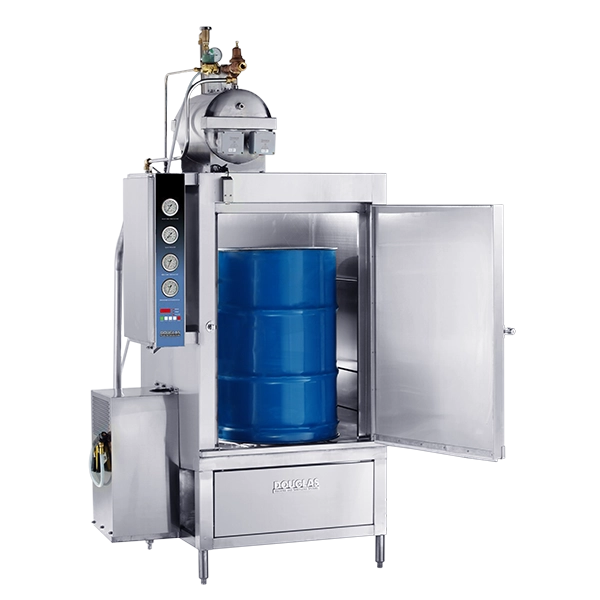 Barrel & Drum Washer – BDW-1-HD
Douglas Machines Model BDW-1-HD is a hinged-door front-loading garbage can washer designed to cut through grime and leave barrels, drums, and other reusable containers sparkling clean.
BDW-1-HD Features:
A 7.5 hp wash pump.

Rugged stainless-steel construction.

A high-efficiency motor.

A recirculating wash tank for water efficiency.

A one-year warranty.
 Can wash containers up to 26″ in diameter by 38″ tall.
Corporate Office
4500 110th Ave N
Clearwater, FL 33762
Business Hours
Monday -Friday                8:00am - 4:30pm
Reach Out to Us
Have a question? Our experienced sales and engineering staff is ready to assist you in identifying the very best Douglas Washer or Replacement Part to match your specific needs. Call (800) 331-6870 for parts and service or email us today. We are here to help you!