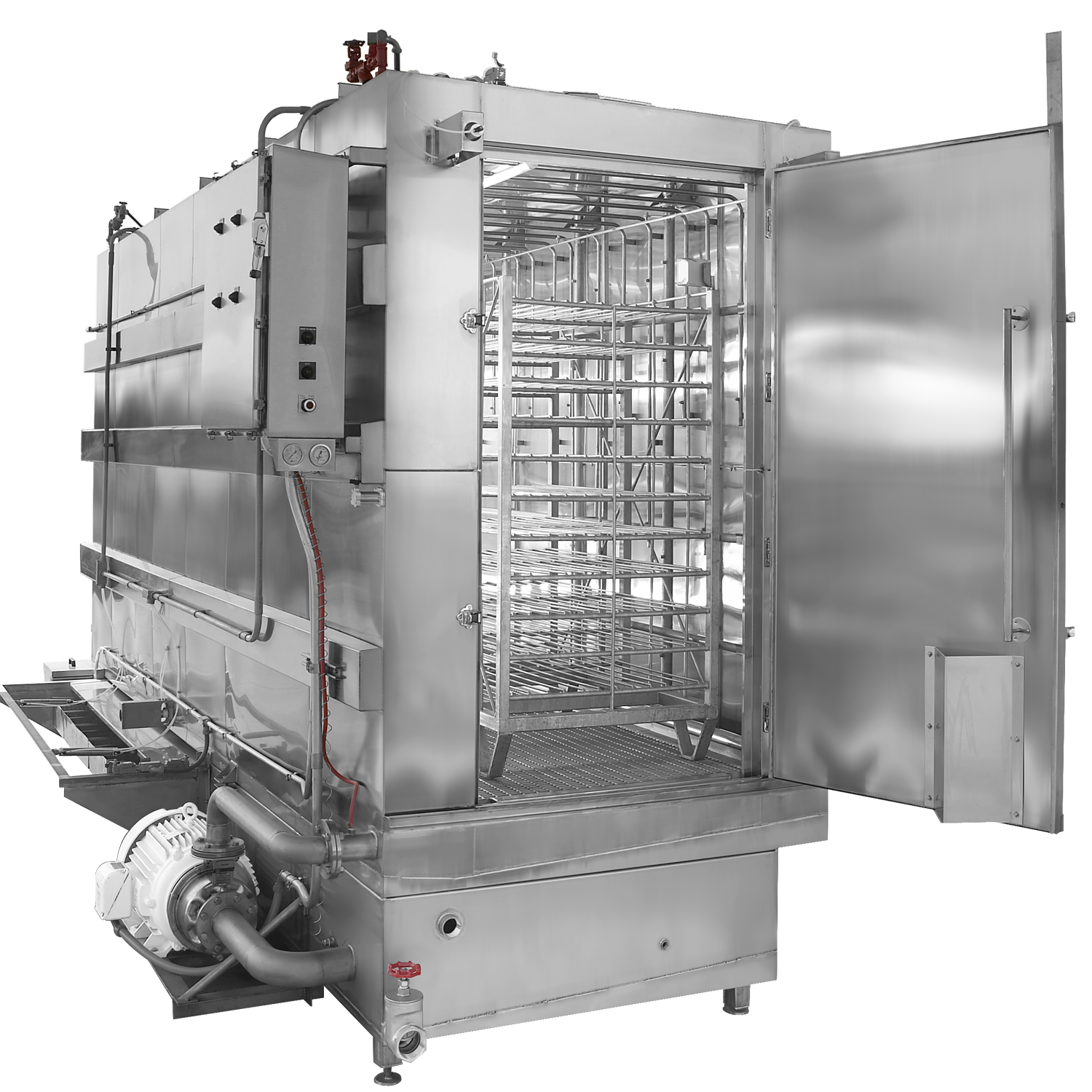 Model STW-2000
This pit mounted, specialty Douglas machine is designed to wash and sanitize two standard size smoke trucks at a time. From heavy-duty construction to stainless steel pumps with wash down duty motors and a 4X control panel, all components of this washing and sanitizing system have been selected to withstand the harsh demands of the meat and poultry industry and daily use with caustic detergents. See the details below for the smoke truck washer model STW-2000 or contact us for details on alternative models for processing one, three or four trucks at a time. 
STW-2000 Features
Rugged Stainless Steel Construction
Oscillating Spray Arm Assemblies
40 H.P. Wash Down Duty, High-Efficiency Motor
Recirculating Detergent Wash Tank
Separate Sanitizing Rinse Tank
Automatic Rinse Diverter
Automatic Water Level Controls
Adjustable Wash/Rinse Cycles
Easy to Clean Filtration System
Gas, or Steam Booster Heating
Optional Wash Racks for Screens
One Year Warranty Program
Smokehouse Rack Washers
Douglas Machines' smoke truck washers come in a variety of models to clean one to four smoke trucks at a time. A special feature of Douglas Machines' smoke truck washers is an automatic rinse diverter system. This system keeps the wash tank from being diluted with rinse water which conserves expensive caustic detergent and significantly reduces operating costs. Regardless of the model, each Douglas Machines' smoke truck washer features a recirculating detergent wash tank and a separate, fresh water sanitizing rinse tank.
Smokehouse Rack Washing Process
Wash water is pumped through oscillating spray arms fitted with high-velocity stainless steel V jets designed to cut and remove stubborn soils. Wash cycles are fully adjustable for various soil conditions but with a typical cycle time of just 10 minutes, clean-up is quick and economical. An external filter system with removable dump baskets collect debris and keep the nozzles from clogging. Gas or steam booster heaters maintain proper operating temperatures. Steam extractions fans are available to vacate the steam from the cabinet before the doors are opened. Pass through versions are available to segregate raw areas from cooked areas.
Phone
(727) 461-3477 Local
(800) 331-6870 Toll Free
Corporate Office
4500 110th Ave N
Clearwater, FL 33762
Business Hours
M-F: 8am – 6pm
Sat: 8am – 4pm
Sun: Closed
Reach Out to Us
Have a question? Our experienced sales and engineering staff is ready to assist you in identifying the very best Douglas Washer or Replacement Part to match your specific needs. Call 888-348-3947 for parts and service or email us today. We are here to help you!