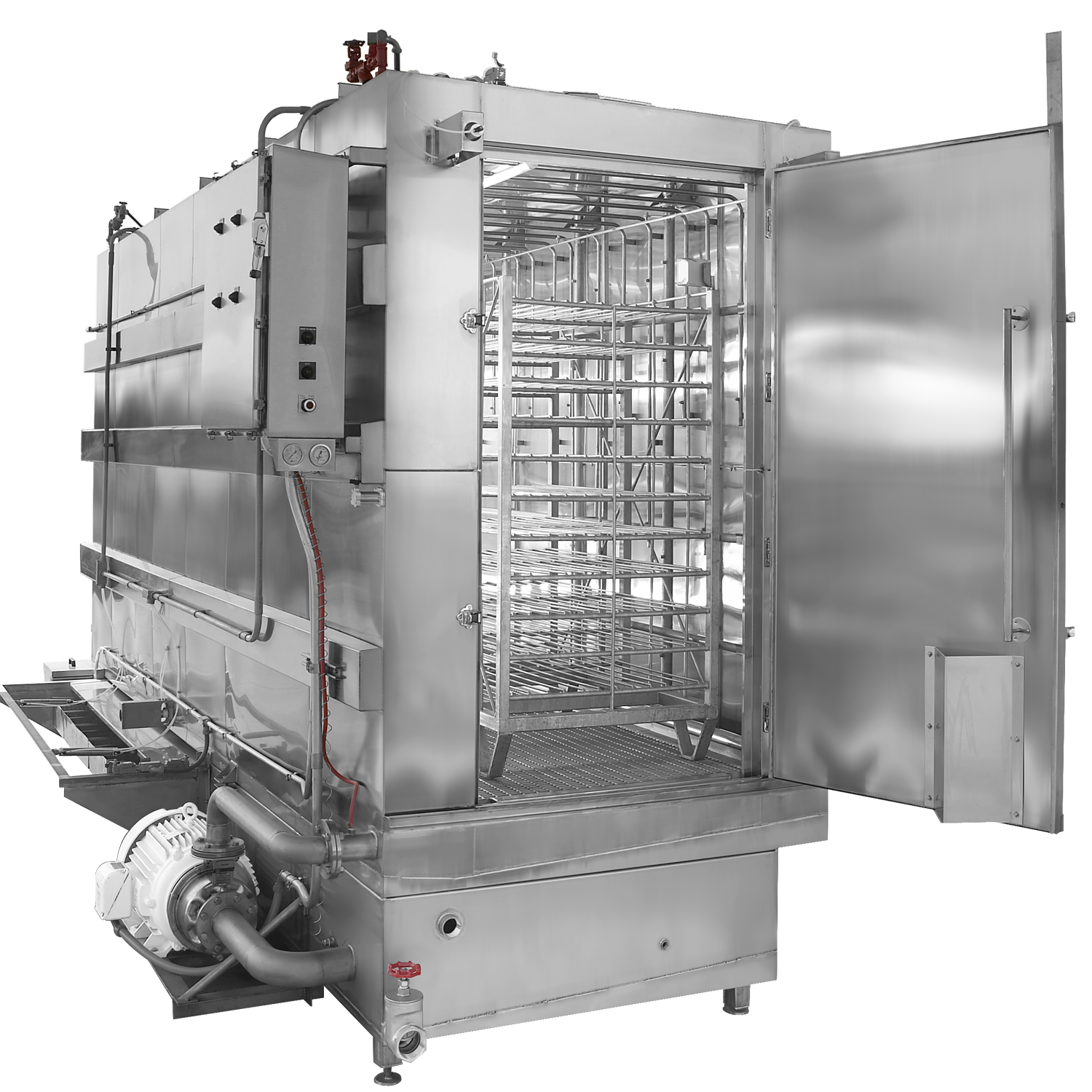 Smokehouse Rack Washer – Model STW-2000
Douglas Machines Model STW-2000 is a specialty pit-mounted smokehouse rack washer designed for the meat processing industry. It can wash and sanitize two standard-size smoke trucks at a time with a standard wash time of just 10 minutes.
Every component of this system has been designed to withstand the harsh demands of the meat and poultry industry, from stainless-steel pumps with wash-down duty motors to the 4X control panel. 
Even with its tough dependability, the STW-2000 doesn't sacrifice efficiency. 
Contact us for details on alternative models for processing one, three, or four trucks at a time. Pass-through models are also available to separate raw & cooked materials.
STW-2000 Features
Rugged Stainless-Steel Construction
Oscillating Spray Arms
40 hp Wash-Down Duty Motor
Recirculating Detergent Wash Tank
Separate Sanitizing Rinse Tank
Automatic Rinse Diversion
Adjustable Wash/Rinse Cycles
Easy-to-Clean Filtration System
Gas or Steam Booster Heating
Optional Wash Racks for Screens
One-Year Warranty Program
Durable & High-Efficiency
Not only is the STW-2000 incredibly durable, but it's also highly efficient. This machine's Automatic Rinse Diversion system routes most rinse water back into the drain to prevent the wash tank from being diluted. This conserves expensive detergents and significantly reduces operating costs.
Plus, like all Douglas Machines, the STW-2000 comes packing a water-efficient recirculating wash tank and a state-of-the-art high-efficiency motor. These will save you money and resources while operating your smokehouse rack washer.
Operating a Smokehouse Rack Washer
Use the control panel to select your fully adjustable wash cycle.

Gas or steam booster heaters maintain operating temperatures.

Water pumps through oscillating spray arms.

High-velocity V jets spray water to cut through dirt and grime.

Optional steam fans vacate the steam before the doors open.

An external filter system collects debris and prevents clogging.
Corporate Office
4500 110th Ave N
Clearwater, FL 33762
Business Hours
Monday -Friday                8:00am - 4:30pm
Reach Out to Us
Have a question? Our experienced sales and engineering staff is ready to assist you in identifying the very best Douglas Washer or Replacement Part to match your specific needs. Call (800) 331-6870 for parts and service or email us today. We are here to help you!