Pan washers are compact, heavy-load stainless steel machines designed to clean a high throughput of product contact items. They come in various sizes, so local and international businesses alike use them to expedite cleaning and shorten order output. But they're not just for bakeries, businesses across industries use these machines, from food service to poultry processing.
Their design consists of a wash chamber with flexible wash racks that can carry from 10 to 36 standard baking pans at a time, depending on the model. Operators load the racks through either a lift-door or split-door design.
Loading the Wash Chamber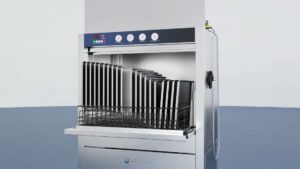 In the case of the split-door design, the wash rack moves out for the operator's ease of loading.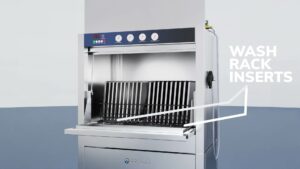 Wash racks also come with adjustable inserts, so the wash rack can hold and support a wide variety of process items, from pans to mix bowls to machine parts.
The Wash Water System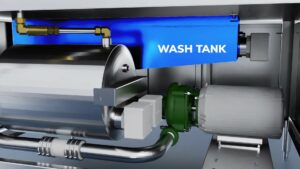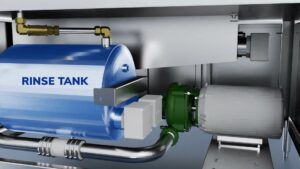 These pan washers operate on a dual-tank system. The first tank is a water-recirculating wash tank, and the second is the sanitizing rinse tank which provides the final sanitizing rinse. This dual tank system is water conscious without sacrificing sanitation quality.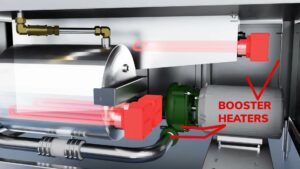 Booster heaters warm the wash water to sanitation standards using either gas, electric or steam, depending on what your facility has available.
Wash Cycle Options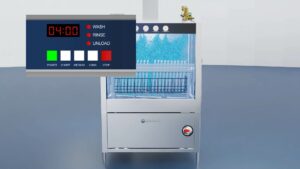 Circulating v-jets shoot the water to cut through grime and remove soils.
Pan washers have three preprogrammed wash cycles: short (four minutes), medium (six minutes), and long (eight minutes). The operator may choose from these depending on the items, and the type and severity of the soil on them. Each of these wash cycles consists of a water-recirculating wash and sanitizing rinse.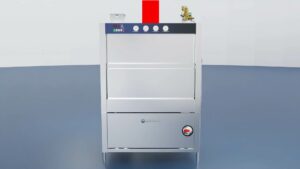 Following the wash, the pan washer's steam extraction fan will evacuate all steam from the wash chamber for the operator's comfort and safety.
Ease of Maintenance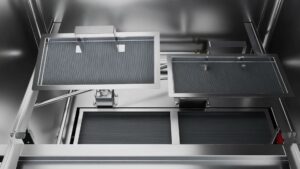 Underneath the wash rack, the pan washer contains filters. These filters catch any large debris that come off of the wares to prevent clogging of the machine. The lids of these filters are built with handles for ease of removal to rinse them off for the next day.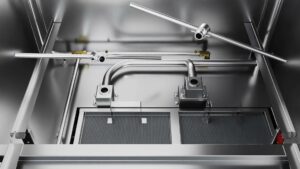 The wash heads are also easy to remove and clean to prevent nozzle clogging.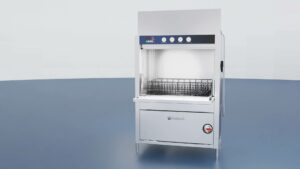 The Douglas Machines Corp. pot, pan, and utensil washer prioritizes resource efficiency and ease-of-use. These compounded with its simple, ergonomic design have made it a staple across industries for automated sanitation.