Cheesemakers navigate a complex and challenging industry. Strict FDA regulation, volatile milk prices, tight labor markets, employee injury and turnover, high risk of cross-contamination, and profit-draining waste are all major concerns for them. Many of these issues can be remedied by automating their cheese sanitation practices.
Douglas Machines Corp. automated washing and sanitizing systems clean and sanitize cheese contact surfaces. Machine parts, containers, and utensils have a food-grade clean in a fraction of the time. Unlike handwashing, the longest machine wash is only eight minutes.
Starting at the push of a button, automated washers decrease the labor wasted on sanitation tasks. Consequently, facility downtime reduces, and cheese output increases. In addition, wash automation eliminates human error and guarantees consistent sanitation. These machines completely remove soils like fat, protein, lactose, rennet, curds, and whey, with near zero risk of cross-contamination. Their efficient and ergonomic design increases employee safety while decreasing water and energy consumption.
Every product contact surface in your cheesemaking facility can be washed automatically, even the most fragile processing items. Hence, you can completely eliminate handwashing from your process. Below are five of the best automated washing and sanitizing systems for cheese manufacturers.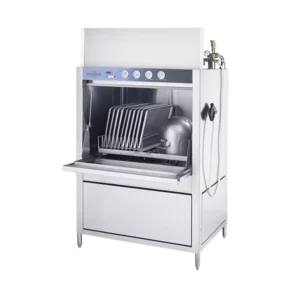 1.    Pot, Pan, & Utensil Washer
The Pot, Pan, and Utensil Washer line features nine different models of different sizes, capacities, and loading styles depending on the needs of your cheesemaking facility. One of the most popular is the mid-size SD-20, which sits at 87" tall and 52" wide. It has a wash chamber capacity of 20 standard-size sheet pans per wash cycle, washing up to 300 pans an hour.
This model has a flexible wash rack designed to fit a variety of cheese processing containers and utensils like curd scoops, cheese moulds, curd rakes, and cheese paddles.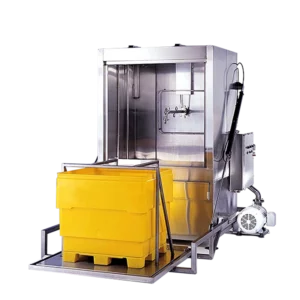 2.    Vat & Bin Washer
Normally, large-scale containers like cheese vats and pasteurizers require intensive handwashing and time-consuming cheese sanitation measures. However, these systems cut that time into a fraction with an unbeatable clean. The Vat and Bin Washer line efficiently washes large vats and bins up to 600 lb., some models can even wash two at a time for high-output facilities.
3.    Scale Parts Washer
Automated processing equipment like scale weighers, mixers, and slicers are crucial to your cheese output. They require thorough cleanings to maintain their effectiveness and lifespan. However, damaged parts due to uncareful or ineffective handwashing are expensive to replace. A single scale weigher head costs thousands of dollars. That's why Douglas Machines Corp. designs its Scale Parts Washers to clean parts carefully, extending the life of your weigher machines while improving cheese sanitation.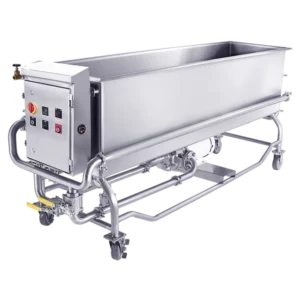 4.    COP Parts Washer
The Clean-Out-Of-Place (COP) Parts Washer is designed for small, hard-to-clean, or irregularly shaped parts that would normally require handwashing or intensive cheese sanitation processes. It has a recirculating wash tank surrounded by rolling jets that loosen and remove stuck-on soils without damaging any parts. It's perfect for cheese processing items like cheese harps, curd cutters, or cheese press parts.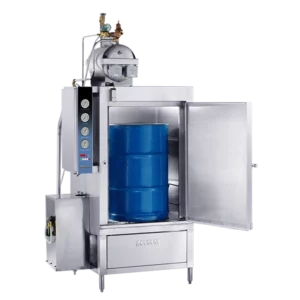 5.    Barrel, Drum, & Garbage Can Washer
Finally, cheese manufacturers should consider a Douglas Machines Corp. Barrel, Drum, and Garbage Can washer. This cheese sanitation system comes in a single model: the BDW-1-HD. This machine stands at 98" high and 50" wide, able to simultaneously clean the interior and exterior of large cheese processing containers like milk cans and cheese mixing drums.
If your cheese manufacturing facility has specialty items that require a new type of sanitizing solution, you can partner with a Douglas Machines Corp. engineer to design a wash system that will perfectly fit your facility and clean your specialty items.