Invitation to Explore Douglas Machines Corp. at the International Production and Processing Expo

IPPE 2024
Jan. 30 – Feb. 1
Georgia World Congress Center

Booth # BC – 41091
Discover Industry-Leading Washing and Sanitizing Solutions Designed to Transform Your Operations. We are pleased to extend an invitation for you to join us at the upcoming International Production and Processing Expo, where Douglas Machines Corp. will be showcasing its comprehensive range of innovative washing and sanitizing systems.
Excited to see what's in store this year.
Looking for a new washing and sanitizing system.
Are you navigating the complexities of industrial washing and sanitizing? Our Sales Engineers are on-site and eager to share their knowledge with you. Stop by our booth 41091 at IPPE 2024 to explore our innovative cleaning solutions, ask questions, participate in demonstrations and discover how we can customize our technology to optimize your cleaning process. Don't miss this valuable opportunity to get personalized insights and recommendations. Let's elevate your cleaning efficiency together!
Schedule an appointment to meet with Douglas Machines Corp. at International Production and Processing Expo.
Advanced Batch and Continuous Cleaning Systems
Our booth will feature our cutting-edge batch and continuous cleaning systems that are engineered for efficiency and reliability. These high-throughput systems have the capacity to clean several hundred to several thousand containers per hour, setting new standards in industrial hygiene and efficiency.
By visiting our booth, you'll gain invaluable insights into how our technologically advanced washing and sanitizing systems can elevate your operational standards, while also contributing to a more sustainable future.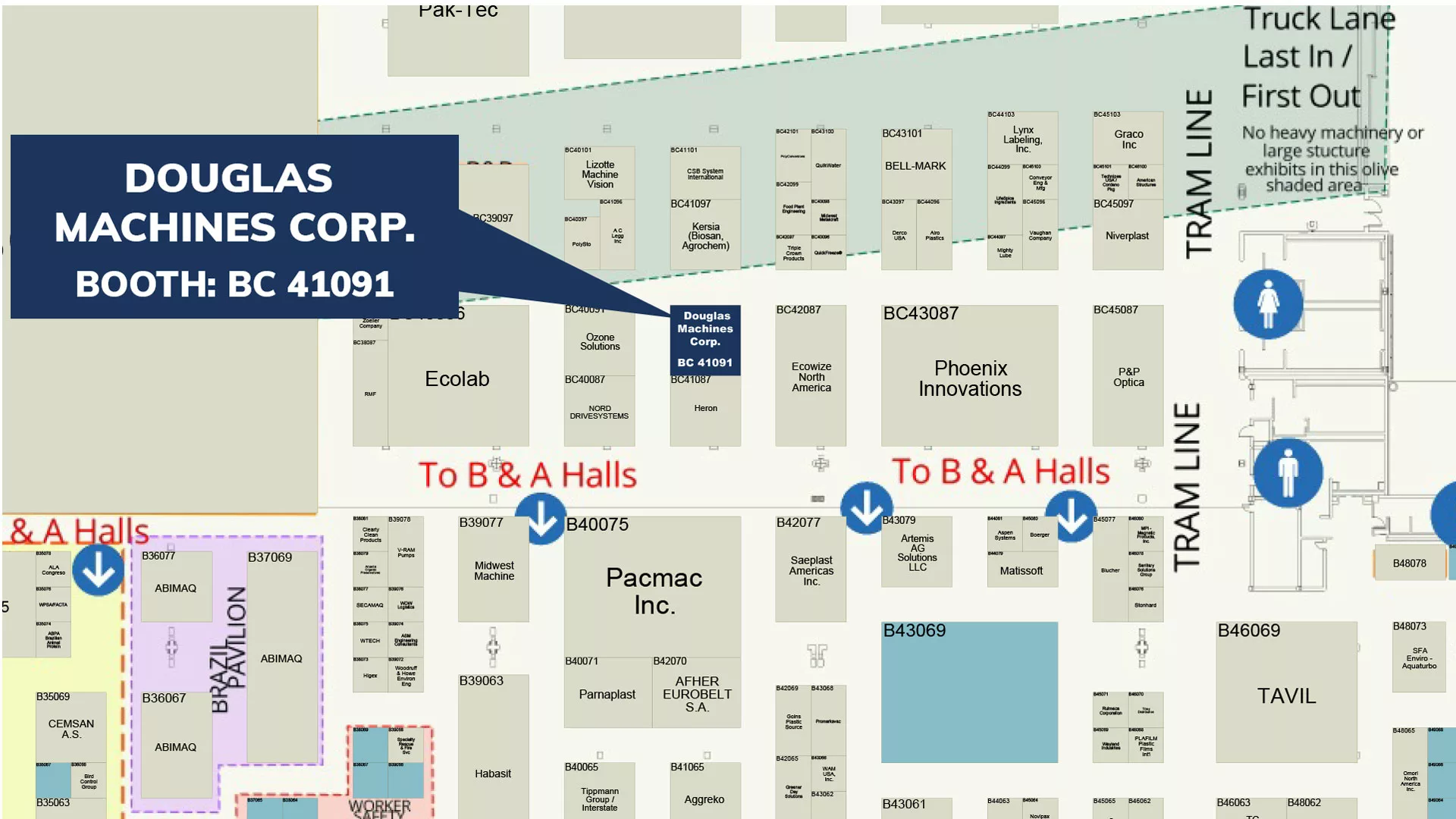 Comprehensive Range of Over 80 Standard Washing and Sanitizing Machines
At the expo, we invite you to explore our extensive catalog featuring more than 80 standard models tailored for a multitude of applications. From cleaning trays, pans, and molds to sanitizing scale parts, totes, racks, belts, bins, vats, barrels, and buckets, we offer a specialized solution designed to meet your unique cleaning needs.
Corporate Office
4500 110th Ave N
Clearwater, FL 33762
Business Hours
Monday -Friday                8:00am - 4:30pm
Reach Out to Us
Have a question? Our experienced sales and engineering staff is ready to assist you in identifying the very best Douglas Washer or Replacement Part to match your specific needs. Call (800) 331-6870 for parts and service or email us today. We are here to help you!