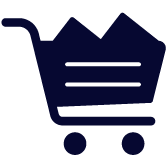 Supermarket & Grocery Store Container Washing Equipment
Douglas Machines Corp. manufactures washing equipment that cleans dishes, containers, tools, and machine parts used in the grocery and supermarket industries. Our washers are typically used in the deli and bakery sections of bustling supermarkets and grocery stores.
Streamline Your Supermarket with Douglas Washing Equipment
Food safety is particularly important in the supermarket and grocery industries, being direct-to-consumer. There are many health hazards that you're responsible for protecting consumers from, like allergen cross-contamination and foodborne illnesses. As such, you have to clean all containers, surfaces, tools, and machine parts multiple times a day.
Consistent, effective container cleaning protocols are hard to maintain with many supermarkets facing labor shortages and high turnover rates. Cleaning by hand is time-consuming, and if you are already running a minimal crew, could seriously bog down your operation.
That's why Douglas Washers are trusted by hundreds of grocers globally. Our supermarket washing equipment sanitizes to perfection every time, granting you peace of mind against foodborne illnesses and contamination. They work at the push of a button, so your employees can begin the wash cycle and walk away to complete other tasks, increasing your labor efficiency.
Other automated washers use mass amounts of resources, like water and energy, that are expensive over time. Douglas washers are designed with energy-efficient pumps and water-recirculating wash tanks to conserve your resources and save you money long-term.
You can choose from over 80 standard models or contact us now to work with an engineer and design a custom machine tailored to your needs.
Supermarket & Grocery Containers We Clean
Here's a partial list of the items Douglas Machines snack food commercial washing equipment can clean.
Don't see the items you want to clean? Give us a call! Our engineers can recommend a machine or run it through our state-of-the-art wash test and research area, where you send us your dirty items and we'll run it through a machine and send it back to you along with footage of the cleaning. Just to prove the quality of our work.
Bagel Boards
Beverage Carriers
Bins
Bread Pans
Buckets
Bulk Containers
Bundt Pans
Bun / Sheet Pans
Cake Molds
Cake Pans
Candy Molds
Conveyor Belts
Cooling Racks
Crates
Donut Screens
Drums
Food Storage Boxes
Funnels
Garbage Cans
Hinged Totes
Ingredient Bins
Lids
Kettles
Loaf Pans
Lugs
Machine Parts
Magnum Bins
Mixing Bowls
Moulds
Muffin Pans
Oven Racks
Pails
Pallets
Pallet Separators
Pans
Pizza Dough Boxes
Pots
Proofing Boards
Racks
Phone
(727) 461-3477 Local
(800) 331-6870 Toll Free
Corporate Office
4500 110th Ave N
Clearwater, FL 33762
Business Hours
M-F: 8am – 6pm
Sat: 8am – 4pm
Sun: Closed
Reach Out to Us
Have a question? Our experienced sales and engineering staff is ready to assist you in identifying the very best Douglas Washer or Replacement Part to match your specific needs. Call 888-348-3947 for parts and service or email us today. We are here to help you!