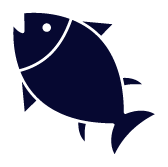 Fish & Seafood Processing Container Washers
Douglas Machines Corp. manufactures container washers and sanitizers used in commercial fish & seafood processing. Our machines sanitize machine parts, tools, and containers used to process seafood, preventing cross-contamination of bacteria and foodborne illness while streamlining your manufacturing process.
Streamline Your Seafood Processing
In the fish and seafood processing industry, food contamination is a major threat to your business and your customers. The industry has a high sanitation standard because containers and tools may carry fish scales, fat, bones, or ink residue that can lead to pathogens and cross-contamination.  
Cross-contamination isn't the only reason why consistent, thorough cleaning is crucial in the seafood industry. Food poisoning is a major issue where fish is concerned, as seafood is especially prone to spoilage and bacteria. To prevent this, containers and equipment should be cleaned multiple times daily, and every time the processing ingredient changes.
This is a daunting task to do by hand, a lot of laborers' work days will be taken up by hand cleaning machines and materials. Older machines will also use a lot of energy and water to do the job. That's why Douglas Machines Corp. created our line of container washers for seafood processing. They work at the push of a button, are built for high-volume environments, sanitize to industry standard every time, and have an energy-efficient motor and water-recirculating tanks to save you money.
You can choose from over 80 standard models or contact us now to speak to an engineer and create a custom machine tailored to your exact needs.
Fish & Seafood Containers and Applications
Here's a partial list of the items Douglas Machines seafood processing container washers clean.
Don't see the items you want to clean? Give us a call! Our engineers can recommend a machine or run it through our state-of-the-art wash test and research area, where you send us your dirty items and we'll run it through a machine and send it back to you along with footage of the cleaning. Just to prove the quality of our work.
Barrels
Bins
Buckets
Bulk Containers
Carts
Conveyor Belts
Cooling Racks
Crates
Chutes
Dollys
Drums
Fish Boxes
Food Storage Boxes
Funnels
Freezing Tunnels
Garbage Cans
Hinged Totes
Ingredient Bins
Lids
Lugs
Machine Parts
Magnum Bins
Mixing Bowls
Moulds
Oven Racks
Pails
Oyster & Shellfish Containers
Pallets & Pallet Separators 
Pans 
Pots
Racks
Scale Buckets
Screens
Sheet Pans
Shipping Baskets
Storage Cages
Totes & Transport Racks
Trolleys
 Tubs
Utensils & Utilitity Containers
V-Mag Carts 
Waste Cans
Weigh Buckets & Hoppers
Wire Containers
Wire Baskets
Corporate Office
4500 110th Ave N
Clearwater, FL 33762
Business Hours
Monday -Friday                8:00am - 4:30pm
Reach Out to Us
Have a question? Our experienced sales and engineering staff is ready to assist you in identifying the very best Douglas Washer or Replacement Part to match your specific needs. Call (800) 331-6870 for parts and service or email us today. We are here to help you!